Today, Kathleen Folan is a wife, mother, and the director of family and youth ministries at St. Dominic's Catholic Church in San Francisco. But in 1990, Kathleen was a 20-year-old college junior, pregnant as the result of a rape. Right away, she recognized the personhood of her preborn child. "I knew it was a child, a human being," she said. "It's a lie if we say it's not."
Although terrified of the changes the pregnancy would bring to her life, Kathleen never considered abortion. "I knew abortion would make it so much worse," she said. "It wouldn't heal my pain. It would just cause guilt that I'd live with forever."
It took Kathleen 11 days to tell her parents, but when she did, they were loving and supportive. They offered to adopt her baby themselves and assured her that they would support any life-giving decision she made.
Throughout her pregnancy, Kathleen was 90% sure that she would choose adoption for her baby. "Despite the circumstances, God had created a human being, and it was up to me to give him the best life I could," she said. "I wanted him to have a mom and a dad, and I couldn't give him that. God sent me numerous signs that adoption was the right choice."
The perfect family for her baby
Kathleen looked at hundreds of couples who wanted to adopt. At first, she did not know what type of family she wanted for her baby, but after some reflection, she realized that she wanted her baby to be raised in a family that shared her Catholic faith and her pro-life values. The first couple she chose fell through when they conceived after years of infertility. Kathleen asked them to help her choose a new family, and she also reached out to her priest. Within a week, they both came back with the same names: Barry and Liz Sullivan. They lived across the country in Maryland, but when Kathleen met them, she knew she had made the right decision.
They settled on an open adoption. "I wanted him to know who I was," Kathleen said. God walked through the pregnancy with her, showing her His grace in many ways. While in a bookstore in Spokane, the name "Nathan," which means "gift from God," jumped out at Kathleen, but she didn't share it with the Sullivans because she wanted them to have the honor of naming the baby. Then Liz said that they were torn between two names and one of them was Nathan. Kathleen shared about her bookstore experience, and they settled on the name Nathan.
Kathleen gave birth in Spokane, Washington, surrounded by her loved ones, and kept Baby Nathan with her for six days after his birth. "Everyone in my family came to meet him," she said. "Even neighbors stopped by to see him."
The Sullivans arrived in Washington on day three. Together, they baptized the baby and held a handing-over ceremony. "The open-adoption counselor suggested the ceremony because she thought our family was strong enough to handle it," she said. Kathleen said the ceremony was beautiful, but the day Nathan left with the Sullivans, she began to grieve. "I returned to college just two months after his birth, but I was miserable," she said. Then the Sullivans invited her to fly to Maryland for spring break. Kathleen worried that it would cause her more pain, but the Sullivans begged her to visit.
As soon as she saw their home and watched Nathan interact with them, she felt a peace come over her. "Their loving home was everything I couldn't provide for him and everything I hoped to have someday," she said. "That trip helped me heal."
Beauty in darkness
When Kathleen had first found out about her pregnancy, she decided not to tell anyone at school. Her roommates even staged an intervention because they had mistaken her morning sickness for an eating disorder. Then one of her professors noticed that something was wrong, and he approached her.
"I confided in him, and he convinced me to tell people," she said. "I was so afraid of what people would think, but their reactions were the exact opposite of what I expected. They were so kind. My fears didn't come true at all, and I'm convinced many women will have the same experience."
Kathleen also feared that no man would want to marry her if he knew about her past. Her fear ended up being the opposite of reality in that case too. Shortly after her spring break trip, Kathleen was showing a friend photos of 10-month-old Nathan, and Luis, another student, asked if the baby was her little brother. Her friend blurted out that Nathan was hers. "I had to explain that I'd placed him for adoption," Kathleen said. "Luis told me later that he knew in that moment that he would marry me someday because he wanted a strong woman to raise his children."
God had given Kathleen a man who loved her because of her decision, not in spite of it.
Kathleen and Luis married in 1995 and had three children together. Their children always knew about Nathan, and they prayed for him each night at bedtime. They sent cards and gifts and spoke to him on the phone, but because of the distance, they didn't see him again until he was 17. "Our family flew to Maryland and stayed with the Sullivans for six days," she said. "My kids were 6, 8, and 10 at the time, and they adored Nathan."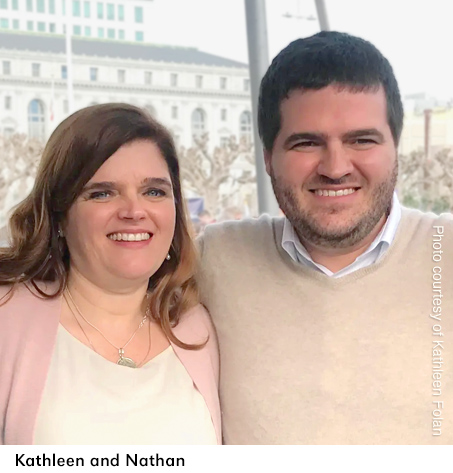 When Nathan was 21, he moved to California, and Kathleen and her family were able to see him more often. They even attended his wedding. "Nathan is the beauty that came out of something dark," Kathleen said. "I never dreamed our story could turn out this way."
In 2020, Kathleen and Nathan shared their story at the West Coast Walk for Life in San Francisco, focusing their comments in particular on the argument regarding exceptions for rape. Kathleen said, "Giving birth to Nathan did not destroy my life, as the abortion side would like you to think, but instead, it gave reason to a painful experience."
Nathan stated, "How I was conceived doesn't define who I am. Life is life, no exceptions. Life is a gift, no exceptions. Life is precious, no exceptions."
As their story proves, life is always a gift from God.
Facebook Comments