In 2006, Jim and Donna Murphy lost their preborn son in a late miscarriage. During an interview with this author, Donna stated: "We went straight from the second ultrasound to several funeral homes and two cemeteries trying to get someone to order a casket for us. Repeatedly we were turned away [from them, with staff telling us that] there is no such thing as a casket for a baby that small. Finally, one funeral director told us to go to an import store and get a box. We bought a small wood chest to place our son in after he was born. Before we placed him in the ground, we wrapped the box in two spools of press and seal. We knew this was not respectful, but we had no choice." 
After that experience, Jim believed no one should have to take those same actions. He suggested to Donna that they start a ministry of making caskets for miscarried infants, but Donna was not emotionally ready. Not too long after, in 2007 while watching the March for Life, she says, "I 'heard' the Lord tell me, 'The only way those suffering from abortion can heal is if those suffering miscarriage and stillbirth can mourn and heal first.'" 
After much prayer and consultation with a trusted priest, Donna came to agree with Jim that God was calling them to this ministry. 
Serving the preborn and their families
The couple began doing research, then developed a relationship with a funeral director and a custom casketmaker, and in 2008, Heaven's Gain Ministries was born. Jim chose the name because "the only hope we have after losing a baby is to be reunited with him someday in heaven." 
The Heaven's Gain website defines its mission, stating: "Burying the dead is a Corporal Act of Mercy. At Heaven's Gain, we are called as part of our mission to provide burial products that honor the dignity of the deceased baby at any developmental stage." 
The ministry does exactly this, and it began to grow quickly.
According to Donna, people loved their caskets so much that they began asking for larger caskets for stillborn babies and preemies. People even asked them to make urns. 
Today, Heaven's Gain offers a variety of affordable, beautiful burial options that range from a $12 vessel and cloth cover for the vessel to a $700 casket and vault combination. 
"Many of our wood caskets are made in northern Ohio by the Amish," Donna explains. "We commission them . . . to our specifications, and we do the interiors in-house." 
All items are personalized, and memorial items are available as well. These products ship quickly, which lessens the stress for parents.
Heaven's Gain provides caskets or urns to about 100 families a month and offers other means of support to 50 more. For instance, the website also features prayers, services, book suggestions, and other resources for people of faith. Heaven's Gain serves parents of any faith or no faith, but Donna says, "We are Christian Catholics, and we hope the love we show will lead people to Christ, who is caring for their babies. We have noticed that those who do not have faith in God and heaven seem to get stuck in their loss, and those who believe their baby is in heaven generally seem to heal." 
Thus, while the ministry originated to fill one need, it has expanded to serve parents in other ways. Donna explains: "Heaven's Gain Ministries provides for the physical, emotional, and spiritual needs of families before, during, and after the birth of their precious child." 
Sobering statistics
Donna reminds us that pregnancy loss is not rare. One in four babies dies in the first trimester. One in 33 dies in the second. And one in 160 is stillborn or dies shortly after birth. 
To assist parents who want to bury their baby's remains, Heaven's Gain offers a miscarriage kit that helps the parents find and preserve the remains of a baby miscarried at home. And now, many doctors' offices stock these kits. Instructions are also provided so that parents can make their own kit.
Donna says, "Thank goodness many people are ignorant about the loss of a baby, but when it does happen you need someone to prepare you for the delivery." 
In addition to miscarriage kits, Heaven's Gain sells special vessels that, when filled with a saline solution, help to preserve a baby's body until burial. Donna explains, "This recreates the womb environment while letting the baby peacefully float in water as he/she would in the womb. It also decreases the redness and lets the body take a more natural look." This keeps the body safe while providing an opportunity for photographs and a way to hold the baby without worry. 
Another important role of Heaven's Gain involves counseling and supporting grieving families. According to the website: "A Heaven's Gain Baby Loss Family Advisor is much like a parent advocate, and can be available via phone, email, or in person to offer services with stillbirth assistance." 
These advisors help parents prepare for the delivery by offering information and guidance regarding birth plans and making memories, advocating with healthcare providers, providing resources, and continuing to support the family after delivery. Donna believes that helping families design a birth plan for the home or hospital empowers them. And while it cannot take away their pain, it does help minimize regrets.
Navigating the grieving process
Heaven's Gain strives "to perform the Spiritual Works of Mercy for . . . clients through instruction, giving advice, consolation, and comforting parents and all family and friends who are grieving the loss of a baby. . . . With a Certified Baby Loss Doula on staff, we offer non-medical information that supports those suffering pregnancy loss at all stages of pregnancy."
A Certified Baby Loss Doula assists families as they go through the grieving process. Donna explains why she sought this doula certification: "In 2009, I was asked to help a mother whose son died at 21 weeks. I went in and talked to the couple, but I knew that I needed more training. In 2011, I started studying to be a certified Baby Loss Doula through Loss Doulas International, and I was in their first 'graduating' class. This has been my passion ever since." 
Pre-COVID, Donna assisted at births. For now, support is only available by phone during deliveries. But her compassion during this difficult time is invaluable.
She adds, "A few times a year we get a family with a terminal diagnosis. I love teaching them how to journal about the time that they have left. For instance, we find out what activities Mom and Dad want to do with their child and [encourage them to] try their best to do it." For example, Donna says that, if the parents had dreamed of pushing a child on a swing, the mother should swing and see how the baby in her belly reacts. If the parents want to share ice cream with a child, the mom should eat some and journal the baby's reaction. Creating these special moments helps parents bond with the baby and heal.
Laws and support
The Heaven's Gain website also contains information for funeral directors working with bereaved families and includes a list of state laws on miscarriage and fetal remains. According to Donna: "Less than 20 states have laws giving parents the right to claim their miscarried baby's remains. The other states have no laws." She encourages clients who live in any of those states to talk with hospital staff about the laws and ask them to show them proof of the "law that says [they] do NOT have the right to [the] child's remains." She says that a hospital's refusal to release the remains is often just hospital policy and that, once the parents express their wishes, the hospital will usually comply and give them the remains.
Pre-COVID, Heaven's Gain facilitated local support groups. Having to go online actually became a blessing, as the organization now has attendees from all over the country. Donna says: "We have both pregnancy loss support and 'rainbow baby' support groups. A rainbow baby is the baby you have after the 'storm' of losing a baby. That pregnancy is full of fears and worries that only those who have lost a baby can understand. We also offer individual and couple support." These support groups are especially healing for women who need to share their birth stories and to connect with others who have gone through similar experiences.
With the exception of products, Heaven's Gain offers these services free of charge and relies on donations, grants, and volunteers. 
Bountiful blessings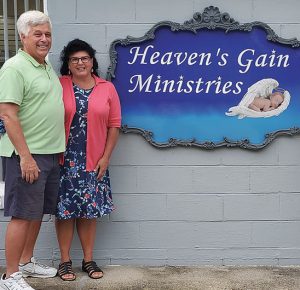 Through the grace of God, the ministry continues to grow, as clients come from all over the United States and from other countries as well. 
Donna says, "We ran our ministry out of our home until 2018. We just keep growing and now fill a three-story building."
With 1,500 clients a year, Heaven's Gain employs part-time staff to facilitate the sales portion of the ministry as well as two Certified Baby Loss Family Advisors and many volunteers "who help craft our caskets and help with office work, building maintenance, and other areas." 
Donna and Jim both volunteer their time, with Jim working about 12 hours each week and Donna maintaining a more-than full-time schedule—this in addition to being parents to seven biological children and their own rainbow baby, whom they adopted out of foster care after their losses (Donna had three miscarriages). 
Donna has big dreams for the ministry's future and states: "I have spoken to clergy and pastoral care in a couple of towns. I also have taught at our seminary here in Cincinnati. Priests really need to know more in this area. I know of really wonderful priests who have said the wrong thing, and families have left the Church. My training really helps priests to understand what to say to these families to bring them comfort. I hope to travel to various dioceses to do trainings." 
Donna would also like to offer trainings within pregnancy centers, and she hopes to hire more staff and recruit more volunteers. In addition, she encourages doctors of miscarrying mothers to make referrals to Heaven's Gain, and she wants to encourage cemeteries to construct small baby mausoleums. 
Donna and Jim continue to inspire families with their compassion and pro-life convictions. They state: "How can we expect the world to believe that babies are precious if we do not treat miscarried and stillborn babies' bodies with respect and allow their parents to properly grieve?"
You can find more information about Heaven's Gain Ministries at heavensgain.org. 
Facebook Comments