In many ways, Charlotte Fien-Emlen is a typical young woman. When I first spoke with her, she was planning her wedding, and in our last email exchange she was worried about taking her college exams.
But most young women have not given speeches about abortion before the United Nations, as Charlie—the name she prefers—has. And Charlie is also neurodiverse. "I have the most common type of Down syndrome where all my cells have the extra chromosome, not just a few like Mosaic DS," she explains. "I get accused a lot of being Mosaic, so I always end up showing people my blood results that prove I'm not Mosaic. It's annoying that I have to do that, but it educates people to see not everyone with DS is the same. We are all different just like people with 46 chromosomes are."
Early life
Charlie was born 26 years ago in London, England, and grew up in Chelsea with her parents and four brothers. Charlie is the middle child. Her parents learned of her diagnosis six months into her mother's pregnancy. Charlie says, "The hospital tried to bully Mum to abort me. In the UK you can abort up to birth for Down syndrome. The hospital kept making appointments to abort me even after Mum told them a million times she was having me."
When she reached school age, Charlie attended the Roche School in London. It is a private school, and Charlie was in regular classes there. She says, "I was the only student with Down syndrome at my school. I loved the Roche School, and I did well there. I got invited to lots of birthday parties and had sleepovers with my best mate Izzy. We are still friends."
Charlie's parents explained her diagnosis to her when she was about eight years old. At first, she was reluctant to accept it. "I thought about it a bit and said 'NO I don't have it. I have UP syndrome.' That was pretty much it. I kept denying I had Down syndrome until I was about 14. Then I decided it was cool to have Down syndrome and autism. I have both."
Advocating for life
A documentary called A World without Down Syndrome was Charlie's introduction to abortion. Then a teenager, she asked her mother what abortion was, but she still had questions. "I was curious, so I looked on the Internet to see exactly what abortion is. I watched an abortion online at a London abortion mill. I felt sick to my stomach."
After that, Charlie began in earnest to educate herself about abortion and disability. This is when the idea of testifying at the United Nations occurred to her. "My parents told me I couldn't just show up at the UN to speak. I needed to be invited. So I contacted a disabled peer in the House of Lords, Lord Kevin Shinkwin. I told him I wanted to speak at the UN and testify for people with Down syndrome who are being killed by abortions. In the UK, 92% of babies with Down syndrome are aborted. He looked at the speech I wrote and said it was perfect and there was no need to change anything."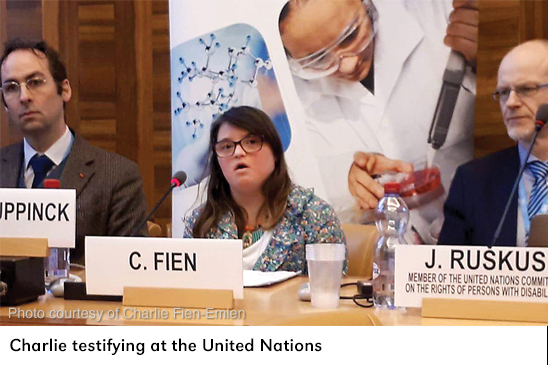 In 2017, Charlie gave her first speech at the UN, testifying against the widespread practice of eugenic abortion of preborn babies diagnosed prenatally with Down syndrome. She spoke there again in 2018. "A mother's womb is the most dangerous place for a baby with Down syndrome to be," she told the assembly. She went on to explain, "The only way to change society's view of us is to be part of our community, to go to the same schools as other children, to not be hidden away."
Her advocacy has not been limited to the United Nations. Charlie has testified before the European Human Rights Court in Strasbourg, France; she was asked by the UN ambassador to Poland to testify at the country's Human Rights Court defending Poland's ban of all abortions for babies diagnosed with Down syndrome; and she spoke in Dublin, Ireland, at the Save The 8th Amendment March, which opposed allowing abortion in Ireland.
Marriage and school
While her UN speech was the catalyst for her advocacy career, it also led to more—a husband and a move across the world. With over 20 million views, that first speech went viral and elicited comments by people all around the world. A man named Riley Emlen was one of many who left a comment. Charlie remembers, "He friend requested me, and we started chatting on FaceTime. We did FaceTime for nine months, and then I came to Washington state . . . to meet him face to face. My mum came with me because of safety reasons and because my dad said no way is she meeting a man from the Internet alone!"
That first meeting in 2018 led to further visits, and in 2019, while on a trip to Venice with Charlie and her family (who all love him), Riley proposed. COVID led to a three-year engagement, and the wedding was postponed three times before it finally happened this past summer. Charlie says, "Our wedding was perfect! I had bridesmaids, flower girls, and pageboys, all of whom had Down syndrome! . . . We went to Oregon and California wine country on our honeymoon. It was very romantic!"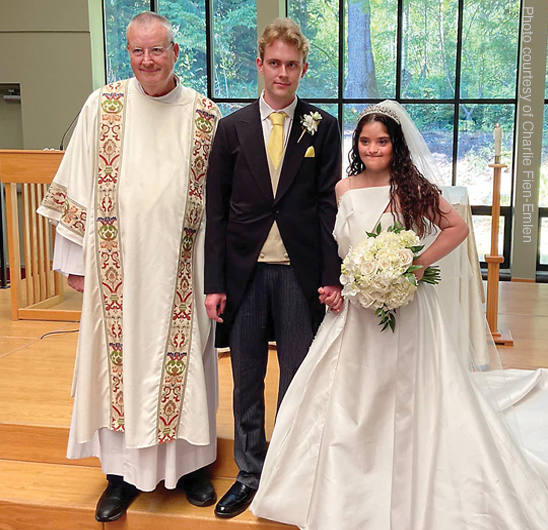 Stories in the media about marriages of people with Down syndrome are rare, but Charlie says that is not the case in real life. "I have several married friends with Down syndrome in the UK. What I suppose is a little rare is for someone with Down syndrome to marry someone who doesn't have Down syndrome. My husband Riley does not have Down syndrome."
Charlie loves being married. "My Riley is the best husband in the world!" she says. In August 2022, Charlie moved to Washington state with her husband. She is continuing the university studies that she began in London. Charlie is in her last year of college and is studying pre-law; she hopes to go into human rights law or disability law. Her husband is working toward a PhD in special education and currently works as a special needs teacher.
Charlie is doing well in college and is taking challenging classes. When we spoke, she was frustrated over having received a B- on what sounded like a very difficult math exam. She said, "I studied so much for this exam and still got a B-. It's really difficult having an extra chromosome. It really does something to my brain and my memory. But I can't ever give up because I'm not a quitter. I have to keep trying to improve and work harder."
Riley and Charlie want to start a family soon. When they finish their studies they plan to move to Europe, where they will continue to fight for the rights of babies prenatally diagnosed with Down syndrome. The abortion rate for this population is nearly 100% in many European countries.
Charlie resists suggestions that she is a "special case" and somehow not typical of people with Down syndrome. She says, "I have Down syndrome, and I'm autistic as well. I have congenital cataracts, had ALL (a type of blood cancer), and a heart defect. I have to work a million times harder than the average person to just do okay. It's annoying that people think most people with Down syndrome are nonverbal. I know tens of thousands of people with DS from all over the world—none of them are nonverbal. They may have speech impediments or use sign language because they're deaf, but they all can communicate. There are a lot of lies and very old incorrect information about Down syndrome. I believe the lies are to keep mothers aborting for Down syndrome. The goal of the medical community is to see people like me vanish in the future. They will use lies and archaic information to push this 'final solution' to Down syndrome. Well, we are NOT going quietly! We are not going to allow this without a fight! God is on our side; He won't ever forsake us!"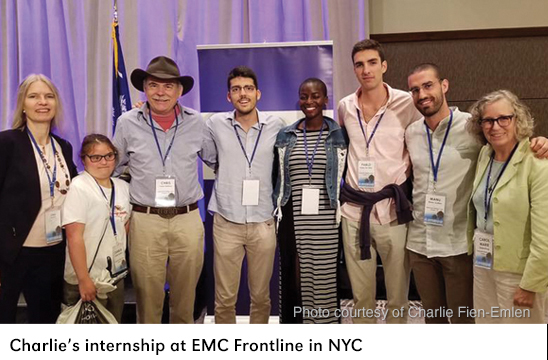 And Charlie wants to continue to be part of that fight. She knows her advocacy has already made a difference. "When I worked as an intern at EMC Frontline, I convinced two women to not abort because their baby has Down syndrome. It would have been a late abortion for both. Even though two out of thousands may seem like not much, it's still two lives saved! . . . I was born to do this work. It's my reason to live; in French it's called raison d'être."
Charlie remains positive and excited about her future and the future of her work, saying, "I'm happily married to my Prince Charming. I am doing well at college. I have remained on the Dean's List for my grades; my GPA is currently 3.89. I'm healthy and doing what I love, fighting for the rights of disabled people to not only exist but to thrive. As long as I have breath, I will continue to fight and speak out against those that want to see Down syndrome eradicated. . . . If people with Down syndrome are not even worthy of life, how will we be worthy of good healthcare, employment, or any other rights? The first most important right is the right to life! I'm begging the world to give Down syndrome a chance. To allow us to live and prove society wrong. We are human beings and deserve that chance."
I asked Charlie what she would say to a woman who finds that she is expecting a baby with Down syndrome and what advice she would offer to parents who are raising a child with Down syndrome. She responded, "I would say first of all, 'Congratulations! You are going to join an amazing community!' My advice is to ignore ignorant doctors. Doctors told my mum and dad that I would be a monster that would destroy their lives! They told my parents I would be in diapers forever! They said I would never read, write, or be independent! All LIES! Find up-to-date, accurate information. Start an intervention program from birth like my parents did. Teach your baby to read using flash cards. Teaching very early reading also teaches speech at the same time. Treat your baby with Down syndrome like any other baby, but put in the extra work because that makes a huge difference."
She then concluded, "Don't put limits on what your child can do. No limits. Society puts plenty of limits on us, don't do that."
Facebook Comments