I've always been a kid person, even as a kid! At five-years-old, I longed to be a mama. I played with my dolls at home and played with my stuffed animals like they were dolls. I even sang them lullabies at night. As I grew, I started volunteering at the nursery at church and never stopped helping in children's classes. I loved holding babies, babysitting, and spending time with my younger cousins.
When I was a young woman, before my husband and I were married, a few doctors told me there was a high chance I wouldn't have children because I had unconfirmed endometriosis. I endured incredible pain during my cycle, and the doctors were convinced it meant I was barren. I was devastated. Checking for endometriosis required surgery at that time, and I chose to have hope instead of surgery.
Pre-birth training
I poured myself into my job as a youth minister and spent time teaching my students about life before birth. I showed them videos of ultrasounds and taught them the importance of life beginning at creation. Every year or so, my students could expect a Pre-Birth Stations Night where they held replicas of preborn babies at each stage in the womb. They would spend time reading stories of abortion survivors (babies and mamas). They would also do some personal study on a passage of scripture that would bolster their faith in God and help them marvel at His creation of preborn babies. They would read these scriptures (and more):
You formed my inmost being; you knit me in my mother's womb. I praise you, because I am wonderfully made; wonderful are your works! My very self you know. My bones are not hidden from you, when I was being made in secret, fashioned in the depths of the earth. — Psalm 139:13-16
The word of the Lord came to me: Before I formed you in the womb I knew you, before you were born I dedicated you, a prophet to the nations I appointed you.
— Jeremiah 1:4-5
I went out of my way to be with little ones, spending time with friends' newborns and helping them with babysitting when I could. I could never shake the desire I had to raise children.
The miracle
So, when my husband and I found out we were pregnant with our first child, we were beyond delighted! I told my youth group we were pregnant by showing them our ultrasound picture on Life Before Birth Night. Oh, the cheering! We were all so excited.
Because our baby was born in the spring, the seniors who graduated that year received a special senior gift—they were the first students to meet our child in person.
I did the same kind of announcement with our second child. Our third child was a delight to anticipate as well. We had such a wonderful time celebrating those little lives as soon as we found out they existed! We told everyone and announced their existence "early."
The doctors were wrong about my body and, boy, are we ever glad! My body is, indeed, very much a mama body, including my heart.
The fourth
As soon as we found out about our fourth baby, we told those we love. I think the baby was about five weeks along when we announced to our family that we were pregnant. I went for an ultrasound when we were six weeks along because I was having some pains in my right side that, after three pregnancies, I knew weren't normal.
The ultrasound was beautiful, and I could hear the baby's heartbeat, though it was slow. The nurse tried to tell me it was normal, yet I knew better and expressed my concern. I had a cyst in my right ovary that was "normal," but the nurse said the pain should fade away. She said there was nothing to worry about, to take it easy, and that she'd see me in two weeks for my normal ultrasound with my husband. In faith, we still announced the baby's arrival to members of our church about a week later.
The pain never went away. I was still concerned. At our eight-week appointment, we found that the baby's heartbeat had stopped. We took the couple of days the nurse practitioner gave us to pray and ask God for our littlest one's life back. It was so awful. We asked others to pray with us, but God chose to keep that little one with Him.
My mama body wouldn't give up that little one's body, so after a couple doses of medicine that was meant to help me "pass" (really it's "deliver" because you still experience labor pains) the baby naturally at home, my body was still fighting to keep that baby. I had to have a D&C.
Feeling the loss and seeking help
After losing our baby, my husband and I were devastated, and we spent a lot of time cuddling and comforting one another and our "bigs." I looked and looked for a devotional that could help me mourn my baby by keeping my eyes fixed on Jesus. At the time, all I could find were one-off blog posts and full-length books. I just wanted something to get me through the first two weeks and keep me moving forward. I couldn't find it anywhere, so I wrote it. I wrote myself a devotional to keep me focused on the word of God and to help me process my sadness.
Eventually, God made it clear that He wanted me to share the devotional with others. About every other woman I shared my story with said, "I had a miscarriage, too." Or "I didn't even know I could mourn my miscarriage. You were the first person to tell me that the miscarriage was a baby."
At the time of this writing, the devotional (which can be found at 3youcansee.wordpress.com) has grown to be 30 days long and continues to be free for anyone who needs it. Over a thousand people have read it, and more are seeking it for comfort each week. Recently, a friend told me she shared it with three people that week. This shared comfort is still needed even seven years later.
Since I originally looked for a two-week devotional, God has also led me to choose the 14 devotions that would most help mamas those first couple of weeks. I put them together into digital book form for anyone who needs it.
You may not need it yourself, but it's likely that someone you know or love does. According to the Mayo Clinic, "About 10 to 20 percent of known pregnancies end in miscarriage."1
That's a lot of loss. Because so much of our culture has been saturated with wrong thinking about when life begins and abortion has become acceptable in the world, we don't talk much about miscarriage. We don't talk about life and death before birth. We don't teach mamas and daddies how to mourn their preborn children.
We don't comfort them when they need it, many times because those little lives aren't celebrated from the instant we know they exist. That can change, though. God has comforted me in my sorrow, and He has done that so I can comfort others.
Giving comfort to others out of the comfort I received
My devotionals are a gift to mothers who have lost their babies. If you or someone you know or love needs comfort in the midst of losing a baby in a miscarriage, please visit 3 You Can See at 3youcansee.wordpress.com/2-week-devotional. I want to share the comfort God has given me with all who read it.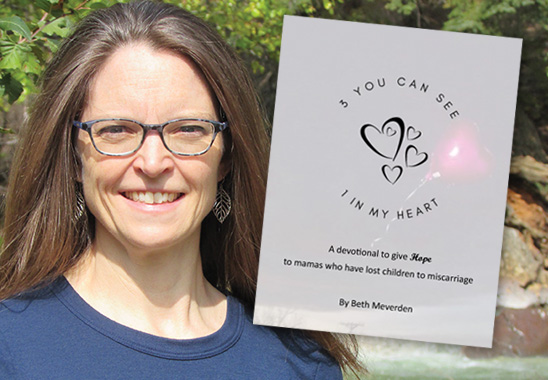 May this devotional help all of us continue keeping our eyes "fixed on Jesus, the leader and perfecter of faith. For the sake of the joy that lay before Him He endured the cross, despising its shame, and has taken His seat at the right of the throne of God. Consider how He endured such opposition from sinners, in order that you may not grow weary and lose heart" (Hebrews 12:2-3).
Through our faith in Jesus, we can endure and overcome. Though weary, we must not lose heart. God is with us and has our best interests in mind, even if we can't see it. He will comfort us so we can comfort others.
---
1. "Miscarriage," Mayo Clinic Staff, October 16, 2021, mayoclinic.org, mayoclinic.org/diseases-conditions/pregnancy-loss-miscarriage/symptoms-causes/syc-20354298#:~:text=About%2010%20to%2020%20percent,even%20know%20about%20a%20pregnancy.
Facebook Comments