Imagine if the National Association for the Advancement of Colored People was required to hire someone who was a white supremacist. New York's recent Boss Bills, which passed in 2019, are trying to do something comparable to pregnancy care centers and other pro-life organizations by mandating that they cannot discriminate against prospective workers who are pro-abortion. 
The Boss Bills—so called because they are directed at the "bosses"—are targeting pro-life organizations, including pregnancy care centers, other pro-life nonprofits, and religious-based institutions like Catholic churches and hospitals. These laws make it illegal for employers with four or more employees to discriminate against applicants or employees based on sexual and reproductive health decisions, such as procuring abortions, contraceptives, sex-change surgery, and more. The bill could also require pregnancy centers to pay for abortions and contraception. 
Though not yet enforced, these Boss Bills also dictate that an employer cannot ask the employee to sign a code of moral conduct.
Fighting for justice
Chris Slattery, pro-life advocate and the founder and president of The Evergreen Association, is fighting these Boss Bills by suing Governor Andrew Cuomo, the city of New York, and the state of New York for discriminating against pro-life organizations. Slattery's charitable organization operates Expectant Mother Care and EMC Frontline Pregnancy Centers—maternal health and pregnancy centers in New York that would be directly impacted by the enforcement of these Boss Bills.  
Slattery, a tireless pro-life warrior of more than 40 years, told Celebrate Life Magazine, "We are outraged that a pro-life organization would be required to potentially hire an opponent of our work—someone who would advocate for abortion."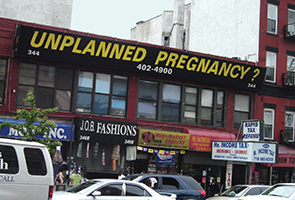 Since 1985, Slattery's pregnancy centers have counseled over 150,000 women and have saved over 40,000 babies and their mothers from abortion. His pregnancy centers—located in New York City and Westchester County—provide pregnancy testing, ultrasounds, counseling, referrals, and assistance in getting insurance for the mothers who need it. They also provide financial and material support to mothers in need, including legal aid, housing aid, and emergency housing through the network of pro-life maternity homes in the New York area. 
The Thomas More Society, a national nonprofit public interest law firm, represents Slattery. On January 21, 2020, they filed a complaint that charges both the state and city of New York with discriminating against pro-life organizations by violating the right to association (First Amendment), the right to due process (Fourteenth Amendment), and the right to free speech (First Amendment).
Thomas More Society Special Counsel Christopher Ferrara told Celebrate Life Magazine: "To say that a pro-life organization has to hire people who oppose the pro-life mission, who have had [unregretted] abortions, or defend the right to have one is ridiculous. It's a blatant violation of expressive association."
Expressive association falls under the First Amendment, which protects a right to associate and a right not to associate together.
According to Thomas More Society Special Counsel Timothy Belz: "The law was packaged with other bills specifically designed to strip away any regulation of abortion. New York's Boss Bill was passed in tandem with the state's Reproductive Health Act, which legalizes abortion until the birth of the child, and the Comprehensive Contraception Coverage Act, which requires health insurers to provide no-cost birth control, including abortifacient drugs, in their health plans." 
Violating rights
What if the situation were reversed and Planned Parenthood was required by law to hire pro-lifers? Why are abortion supporters being given a special status in New York? 
This legislation at the state level criminalizes pro-life entities that refuse to hire an abortion supporter. At a city level, the city of New York could apply penalties, including damage awards. 
"It's a bit flippant, but I think it's appropriate to say that the state of New York is suffering from 'abortion derangement syndrome.' Justice Scalia famously called this the 'abortion distortion,'" Ferrara explains. "This imaginary right to kill babies in the womb has distorted our entire legal system. The framework has been bent to accommodate a right that doesn't really exist. It's reached manic proportions in the state of New York."
According to the Boss Bills, if Slattery's pregnancy centers need to advertise for new employees, it would be against the law to specify that only people espousing a pro-life, pro-abstinence ideology need apply.
Slattery explains, "We would legally be liable to a potential quarter-of-a-million-dollar fine if we violate the law." 
"As Justice Scalia has observed, it seems that there's an abridged version of the First Amendment when it comes to pro-life speech," Ferrara says. "Courts bend over backward to find imaginative ways to deny freedom of speech to pro-lifers. . . . The pro-abortion side gets legal protection as a protected class. Anyone who discriminates against this protected class by having a different opinion will be punished. That's absolutely preposterous! I can't imagine what was going through the minds of these legislators. I think it's a form of legislative insanity."
In the city of New York's version of the Boss Bill, there is an exception for religious organizations or organizations controlled by a religious body. However, the state version of the Boss Bill has no religious exemptions. While Slattery's centers are faith-based, they do not fall into this category, so they would not qualify.
"Theoretically, churches and even priests could be forced to hire pro-abortion supporters," Ferrara says. 
Slattery admits that he's "dumbfounded as to why our Catholic bishops in our state of New York have not attacked this law because of what it will require."
He adds, "Catholic organizations in the state certainly wouldn't want to have teachers in the parishes, schools, and universities advocating for abortion—and being protected from dismissal with a quarter-of-a-million-dollar fine if they do so."
Governor Cuomo's support for abortion
It's not surprising that New York is unfriendly to those who advocate for life. Its governor, Andrew Cuomo, made his disdain for pro-lifers clear back in 2014 when he said they "have no place in the state of New York." 
Then, in 2019, Cuomo supported and signed the Reproductive Health Act—the most anti-life bill in the country—which made late-term abortions available to protect the life and health of the mother. Pro-lifers understand that the term "health" could mean anything.
In March of this year, Andrew Cuomo ordered all nonessential businesses in the state to shut down to help control the spread of COVID-19. He did not place abortion providers into that category. In addition to the services it offers virtually, which include medication abortions, Planned Parenthood of Greater New York continues to offer surgical abortions. 
Many pro-lifers have accused Cuomo of trying to make New York the abortion capital of America, and statistics show that it's well on its way. According to a Centers for Disease Control and Prevention report that analyzed abortion data from 2016, New York has the highest number of abortions compared to 46 other states that reported their abortion data. There are 52 reporting areas including the 50 states, the District of Columbia, and New York City. However, California, the District of Columbia, Maryland, and New Hampshire chose not to share data. 
According to the CDC, 623,471 abortions were reported in 2016. Of those abortions, 87,325 were performed in New York state. The rate of abortion in New York is 21.8 abortions per 1,000 women (aged 15-44 years), totaling 373 abortions per 1,000 live births. In New York City alone, the 2016 CDC report shows there were 1,328 abortions performed on preborn babies who were at least 21 weeks gestational age.
A similar law in St. Louis
New York is not the only state that harasses pro-life pregnancy centers. In 2017, the Thomas More Society took a similar case before judicial review in St. Louis, Missouri. Ordinance 70459, like the Boss Bills, made abortion supporters and advocates a protected class, discriminating against nonprofits that promote life-affirming alternatives to abortion. The Archdiocese of St. Louis, Our Lady's Inn—a home for pregnant mothers that has provided more than 6,000 women with shelter and support—and others filed against the city of St. Louis.
Peggy Forrest, president and executive director of Our Lady's Inn, told the St. Louis Review, "The ordinance prevents me from hiring only individuals who support our alternatives to abortion mission. It also requires Our Lady's Inn to house women who intend to have an abortion. . . . This forces us to be complicit in that decision." 
Thankfully, the unethical law was struck down.
According to the Thomas More Society, the United States District Court for the Eastern District of Missouri declared that the city ordinance—intended to make St. Louis a "Sanctuary City" for abortion—was unconstitutional because it violated several Missouri state statutes.
Refusal to comply
If Slattery's Evergreen Association prevails, it will mean that it will have defended what should have never been attacked in the first place.
"To win this case is merely to affirm a statement of the obvious that organizations with a certain mission have the right to hire people who share that mission," Ferrara says.
A loss would be catastrophic for Evergreen and for pro-life organizations with employees. Forcing them to hire people who neither respect nor adhere to their mission will destroy them. 
"How can you fundraise when you have to tell people that you're being forced to hire people who reject your organization's mission?" he asks. "Also, under this legislation, you cannot give literature to your employees that sets down standards for conducting the mission."
If the Boss Bills remain intact, Slattery says he will not comply. 
Indefatigable
For this seasoned pro-life advocate, fighting a system that has had an extreme prejudice against pro-lifers is nothing new. Over the years, Slattery has fought many battles with the city and state of New York. His fight began when he opened his first pregnancy center in the mid-eighties and came under attack by then-attorney general of New York Robert Abrams for advertising as a "clinic" and not being explicit about the pro-life nature of its work.
Then in 1989, Slattery and the original leaders of Operation Rescue were involved in a 15-year lawsuit for leading and organizing sit-ins at abortion clinics. He received a $50,000 fine for leading rescues in defiance of a federal court order. 
Slattery shares that, for over 35 years, abortion zealots have tried every trick in the book to cripple his pregnancy centers. "These Boss Bills are one of the last straws for me," he said. "I will not stand by and watch them eviscerate our civil rights."
Slattery feels confident that these laws will be overturned because they're "grossly unconstitutional."
"I don't even think of defeat as a possibility," he states. "We will appeal if we lose at the district court level. If necessary, we will appeal all the way up to the US Supreme Court."
EMC Frontline Pregnancy Centers remain open despite the COVID-19 outbreak. Abortion providers also remain open and are seeing high numbers of women seeking abortions, so there's an urgent need for life-affirming alternatives. "Our pregnancy centers have been flooded with women who need our help," says Chris Slattery. To make a donation, visit EMCfrontline.org.
Facebook Comments